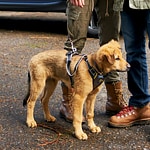 At Lindsay Volvo Cars of Alexandria in Alexandria, VA, we love advising pet owners on vehicles with great amenities for pets. There are wagons, vans, SUVs, and cars that can all work great for dogs.
If you have a large dog or a dog that you put in a kennel, then a wagon or van is a great vehicle. This gives you ample and safe cargo space to keep your dog stable and comfortable. Smaller dogs may prefer smaller kennels on the floor that you can secure.
You may also want to think about a cargo cover that is easy to clean or all-weather floor mats. If your pup likes to sit in a seat, a harness is a great way to keep them safe, and they can still look out the windows! Also, there are excellent seat covers that are easy to wash and wipe off so that your vehicle stays cleaner!