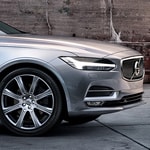 At Lindsay Volvo Cars of Alexandria, we know that performance goes beyond power. With the Volvo V90, you'll enjoy an impressive powertrain paired with cutting-edge engineering and design. The result is a smooth ride and responsive handling in any conditions.
With the Volvo V90, you can choose between the Volvo Sport chassis and the Dynamic chassis. The standard Sport version offers a low-slung ride with a balanced response time that creates a comfortable, athletic feeling when you're behind the wheel. If you prefer a lively feeling and quick response, you'll love the stiff springs and increased damping in the Dynamic chassis.
No matter which chassis you choose, the Volvo V90's rear air suspension is always working to keep you comfortable. It monitors the road condition and reacts immediately — that way, all you feel is a stable, even ride. Whether you're taking a wilderness road or carrying heavy goods across Alexandria, VA, the Volvo V90 delivers a reliably comfortable driving experience.