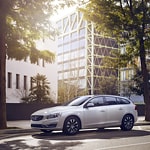 The Volvo V60 Inscription is one of the more popular midsize sports wagons available today. One characteristic that makes this model stand out is the excellent detail found with these vehicles in regards to the trim design.
On the exterior, chrome trim can be found throughout the cabin accenting the sleek design and luxurious look of the Volvo V60 Inscription. They can be found accenting the exterior windows as well as the front grille bars and lower grates. On the interior, a unique Driftwood Inlay is found along the dash that pays homage to Swedish heritage. It gives the Inscription a sleek and stylish inside that keeps that luxurious feel.
With so much design and style put into the Volvo V60 Inscriptions, we are certain that you will enjoy the feel and drive of these vehicles. They have appeal to families of all sizes. Come down to Lindsay Volvo Cars of Alexandria to set up your test drive today!